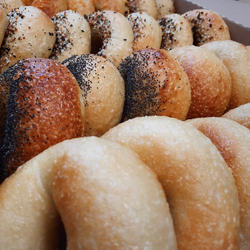 The Craft LLC
Bagels
This item cannot be ordered together with holiday items, e.g. Easter, Thanksgiving or Christmas items.
For example, bagels + Thanksgiving apple pie (incorrect).
The non-holiday items must be ordered separately.
Toppings:

Plain
Asiago
Cheddar
Cinnamon Sugar
Everything
Poppy Seed
Sesame
Did you know The Craft's bagels are vegan?  Yep, all except the Asiago and Cheddar topping options.
You can choose up to 2 toppings.  Your order quantity will be split into half of each topping.  Please select your toppings using the dropdowns.  If your order includes PLAIN bagels, please list the plain as TOPPING ONE and choose your other topping in TOPPING TWO.

No shipping currently.