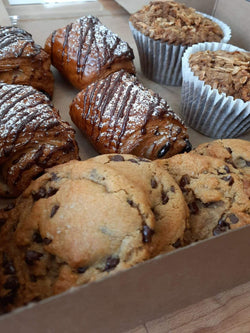 The Craft LLC
Gift Box
This item cannot be ordered together with holiday items, e.g. Easter, Thanksgiving or Christmas items. 
For example, bagels + Thanksgiving apple pie (incorrect).
The non-holiday items must be ordered separately.
Are you looking for a yummy unique gift to give you a teacher, nurse, friend, etc.?
Look no further! 
The Regular Gift Box includes
2 chocolate croissants
2 almond croissants
2 gluten-free morning muffins, with walnuts
6 vegan chocolate chip cookies
a handwritten note**
**Please include your note wording in the 'Special Instructions for Seller' on the cart page.