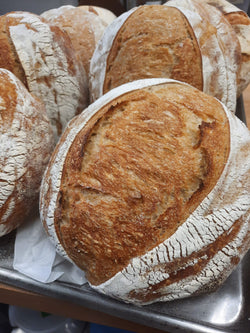 The Craft LLC
Sourdough (Frozen)
This item cannot be ordered together with holiday items, e.g. Easter, Thanksgiving or Christmas items. 
For example, bagels + Thanksgiving apple pie (incorrect).
The non-holiday items must be ordered separately.
Due to popular demand! Now you can order frozen sourdough loaves cut into halves to increase the convenience. We freeze freshly baked sourdough bread to give you the tastiest experience at home!
Product: 1 baked sourdough loaf, cut into halves and frozen.
No shipping currently.